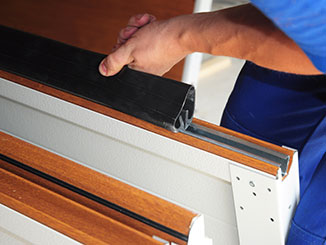 Some decisions regarding garage doors are hard to make. It's difficult to decide whether you need insulated panels or not, let alone to choose the right type of insulation material for the job. The needs of every homeowner can vary greatly, so there's no one simple answer to suit every person. Since insulated garage door prices are relatively higher, it's wise to do some research and get the right information so that you will make the proper choice.
The Main Reasons
When people decide to invest in an insulated door, they're usually looking for high energy efficiency, which leads to reduced utility bills, and outside noise. If you fail to choose the right material for your garage or a door with a too low R-value, you may not get what you expected and your home won't gain as many benefits from the door as it can. That's why you need to...
Do Some Research
The R-value is the ranking that determines how insulating a door is going to be. This is the way professionals measure the thermal resistance of a specific product. Depending on the materials used, energy efficiency will be lower or higher, and the R-value will change accordingly. Don't forget that an insulated garage door is not purchased only to protect you from cold air drafts in the winter. It also helps you avoid heat waves in the summer. Steel and aluminum overhead doors are often the best choices for higher energy efficiency. Their insulation might range from low to high R-value. It's always best to get doors with an R-value higher than 10. If you live in an area where temperatures might get very low or high, it's best to get panels with an R-value of around 15 or 17. You need to make sure the ranking corresponds to the entire surface of the door and not just to its center. The seams, perimeter and edges should all be properly insulated as well.
Materials To Choose From
This brings us to another important matter - the insulation materials that are commonly used. Polyurethane is often better than polypropylene because it is injected and spread all over the door's surface. This material sticks to the panel wall skin like chewing gum whereas polypropylene will just stay where it is placed without spreading. Whether you get an overhead door or some other type, it's better to choose multi-layer panels, as they will provide better insulation.
Some Extra Additions
Don't forget that you can enhance the insulation capabilities of your door by installing quality weather stripping, with greater emphasis on the bottom seal. This will help your garage be more energy efficient and keep pests and rough weather conditions from affecting it.