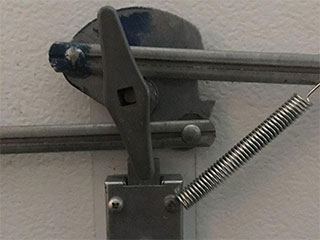 Next time you get new garage door parts, make sure they are galvanized. A number of years ago, most parts were made out of raw steel and therefore wasn't able to resist rust very effectively. Galvanized components, on the other hand, are able to avoid moisture and therefore they don't corrode.
How It Works
Steel is one of the strongest materials that can be molded with relative ease, which is why it is so widely used in construction and why so many different parts are made from it. Aluminum is also used in many applications. It might not be as durable as steel, but it doesn't corrode. That's why an aluminum overhead door is often recommended for homes in regions with high humidity. In an effort to combine the durability of raw steel and the rust-resistance of aluminum, manufacturers created a line of galvanized steel parts, which are coated with a thick protective layer of zinc, to prevent the underlying steel from being exposed to moisture and oxygen, which are what causes rust.
The Importance Of Maintenance
By choosing zinc-coated garage door parts, you will be able to avoid all sorts of rust problems and (if you get galvanized panels) the entire door will be able to maintain its appearance for a lot longer. You have to remember, though that galvanized parts also need good maintenance and lubrication. Since many moving metal parts incur scratches over time, their protective layer could become damaged, which will expose the steel beneath it to moisture and oxygen, and make them vulnerable to rust again. It's therefore very important that you make sure the zinc-coated parts are clean, lubricated and undamaged, and get them repaired if their protected layer breaks.
One Minor Downside
Since all new products are best tested with everyday use, it has unfortunately been proven that galvanized garage door springs are not as strong as oil tempered ones. Zinc-coated parts are great as long as they are not burdened with a heavy load like the springs are. These components need to be able to support the heavy weight of the panels, so if you have a heavy door, it's better to get stronger ones than galvanized ones. As for the rest of the overhead door components, getting zinc-coated parts and making sure they are lubricated will make your life easier and you won't have to replace them as often as you would other non-protected units. Give our team at Garage Door Repair Kissimmee a call and have our experts help you find the best parts for your system.